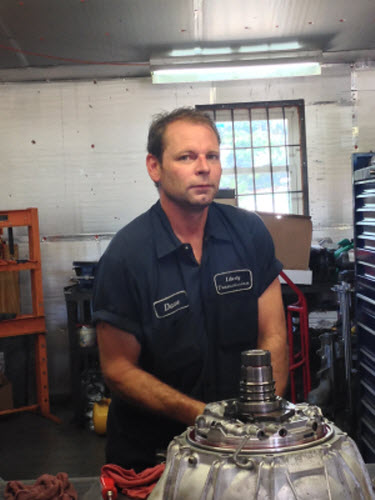 Our Certified ALLDATA Market Reviews :: Review Count: 3 :: Average Rating: 99.99% last 6 months

Rick Weber
from
Oklahoma City
reviewed their last visit on
9/6/2017
and their testimonial is:
"

My transmission broke down on trip from Oklahoma City to Minneapolis. Was referred to Liberty Transmission. They did a great job in a short period of time. Although I had to get rental car to continue my trip my transmission was rebuilt and complete by the next week on my return trip. I don't know if Dave Young is a Christian but he sure operates his shop under Christian principles....honest, caring, fair. Actually my transmission had been rebuilt two months before by a shop in OKC and Dave worked with the OKC shop to mitigate their out-of-pocket expenses as it was still under warranty and I'm sure he had empathy for a kindred shop's owner. Would highly recommend Liberty Transmission!!

"

Ron M.
from
Kansas City
, whose
Ford
was in for an auto repair service, reviewed their last visit on
2/19/2016
and their testimonial is:
"

I can't say enough good things about owner/operator Dave Young and his highly trained and experienced technicians. Dave rebuilt the transmission in a family friend's SUV a couple years ago and just recently rebuilt the transmission in my 2010 Ford Ranger. Dave and his guys know their stuff, especially transmissions. Their work is excellent. Dave is honest and upfront about what may or may not be wrong with your vehicle. He tells it like it is. If it needs to be fixed he can fix it promptly and fix it right. And price-wise he is a great deal more reasonable than the other shops in the metro area. You can't go wrong with Dave. If you are having problems with your vehicle; engine, brakes, transmission, or anything else, I highly recommend Dave. I'm extremely satisfied and happy with his service and don't plan to take my vehicle to anyone else.

"

Shawn R.
from
Kearney
, whose
Mustang
was in for an auto repair service, reviewed their last visit on
7/27/2015
and their testimonial is:
"

High quality shop that stands behind their work. Dave is easy to work with and takes pride in all work completed in his shop. Based upon my personal experience I would recommend this shop to anyone.

"
Powered by: AutoVitals